There is plenty to do and see in Arkansas, but if you're not looking for a week-long stay somewhere or spending a ton on gas, try planning a day trip instead. With a little planning, you can have a fun day of activities the whole family can enjoy or a little romantic escape you won't soon forget.
1. Murfreesboro
If you are looking for a wholly unique adventure, Murfreesboro is a perfect destination. Located in the southwest corner of the state, about 2.5 hours from Little Rock, Murfreesboro is home to the Crater of Diamonds State Park, the only diamond site in the United States, and the only diamond-producing site in the world where the public can dig for diamonds. For a small fee, visitors can dig through a 37 ½ acre field for diamonds, and keep whatever they find. There is also a Diamond Discovery Center with exhibits and summer programming, and the Diamond Springs Water Park. There is also bank fishing, plenty of hiking trails, and campgrounds for anyone interested in a longer stay.
Murfreesboro is also home to the Ka-Do-Ha Indian Village, an archeological site with the only open mounds in the United States. Visitors can take a self-guided tour, which includes the excavated mounds, a field where you can search for arrowheads and crystals and keep what you find, and a museum featuring artifacts such as pottery, stone tools, and water bottles. There is also a Historic Indian Trading Post gift shop, which offers historic and prehistoric Indian crafts, moccasins, drums, bows and arrows, and more.
2. Eureka Springs
Nestled in the Ozarks in northwestern Arkansas is Eureka Springs, a gorgeous town with plenty of things to do and see. The entire downtown is on the National Register of Historic Places, and the Victorian buildings house tons of unique shops and restaurants. Visitors can hike 8 miles of maintained trails at the Ozark Natural Science Center, which offers plenty of educational programming and workshops like Wilderness First Aid.
There is so much art to explore as well, such as the seven-story Christ of the Ozarks, the beautiful Thorncrown Chapel hiding in the forest, a section of the Berlin Wall, and the Sacred Arts Center, which features over 1,000 pieces of religious art dating back to the ninth century.
For thrill seekers, you can visit the Onyx Cave Park to see some fantastic underground formations, you can take a canopy tour above the Ozark Mountains with Ozark Mountain Ziplines, or you can visit the Crescent Hotel, which holds the title of America's Most Haunted Hotel. You could also visit the Turpentine Creek Wildlife Refuge, a non-profit big cat sanctuary accredited by the Global Federation of Animal Sanctuaries.
3. Louisiana Purchase State Park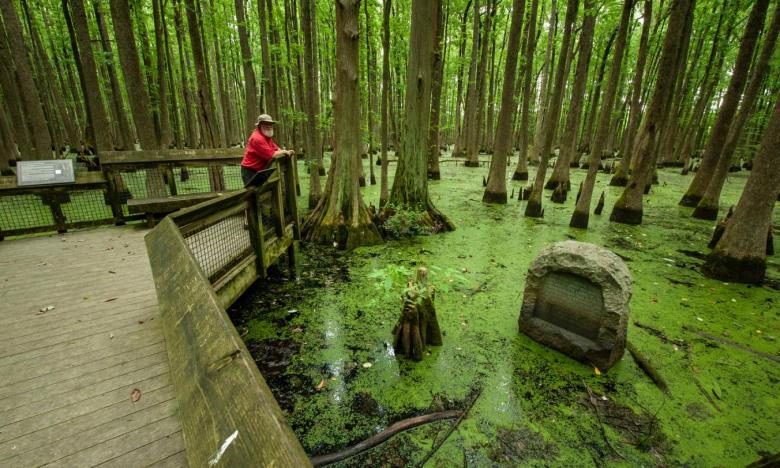 Just south of Brinkley is 37.5 acres of swampland that carries with it an interesting bit of American history. After the United States acquired the Louisiana Territory from the French First Republic in 1803, President James Madison ordered a survey of the territory in 1815. That survey began in what is now called the Louisiana Purchase State Park. A 6-foot tall granite monument was erected at the starting point of the survey to commemorate it, and visitors can take a truly unique hike through some beautiful swamp scenery to view the monument. A boardwalk was constructed above the swamp to enable you to get there easily, and along the way markers will educate visitors about the Louisiana Purchase, as well as local flora and fauna of the Arkansas swampland.
4. Paris, Arkansas
Paris, Arkansas, embraced its namesake by building a 25-foot Eiffel Tower. But this charming, small town in northwest Arkansas has so much more to offer visitors. During the summer, a wonderful farmer's market takes place in the Eiffel Tower Park on Tuesdays and Saturdays. Many of the buildings are on the National Register of Historic Places, including the Logan County jail, which is now the Logan County Museum. Out front is the gallows, where the last public hanging in Arkansas took place in 1914. There is a winery and three different local craft breweries in town, as well as plenty of boutique shopping. Additionally, it is the site of several motorcycles and bicycling events.
But the crowning jewel of Paris is that it sits at the base of Mount Magazine, Arkansas' tallest peak at 2,753 feet. With stunning views out over the state, Mount Magazine is a destination for mountain biking, horseback riding, backpacking, and ATV riding. Mount Magazine State Park offers technical rock climbing and a hang gliding launch area. There is also a mountain resort called The Lodge, which offers breathtaking views from a south-facing bluff with 60 guest rooms, an indoor swimming pool, and incredibly romantic dining at The Skycrest Restaurant.
5. Devil's Den State Park
Deeper into the Ozarks, north of Paris in Lee Creek Valley, is Devil's Den, which became an official state park site in the 1930s. The Civilian Conservation Corps (CCC), founded by FDR in 1933, built the park's wood and stone structures with native materials to mirror the surrounding natural beauty. With the CCC disbanded in 1942, the park is one of the most intact CCC sites in the United States, leaving behind a legacy you can see in its trails and buildings.
The park features trails through the Ozark National Forest for hiking, backpacking, mountain biking, and horseback riding, with interesting rock formations and caverns to explore. A rock dam across Lee Creek helps form Lake Devil, which allows fishing, canoeing, and has pedal boats for rent. There is also a pool open during the summer to help visitors cool off.
Park interpreters offer guided hikes and nature talks, and visitors can enjoy afternoon recreational activities and evenings at the outdoor amphitheater. There are also plenty of events happening year-round, including wildflower walks, birding trips, and the Northwest Arkansas Mountain Bike Championships.
Devil's Den has 17 full-service cabins to stay in, many of which were built by the CCC and updated with modern amenities. The park also offers 6 camper cabins and 135 campsites. In addition to the CCC-built pavilion, there is also a second large pavilion, a seasonal café, a store, and a meeting room for small gatherings.
Insure Your Car with Farm Bureau Insurance
No matter where you go, stay safe on the road with high quality, affordable car insurance from Farm Bureau Insurance. Contact a Farm Bureau Insurance agent near you by using our Agent Finder.